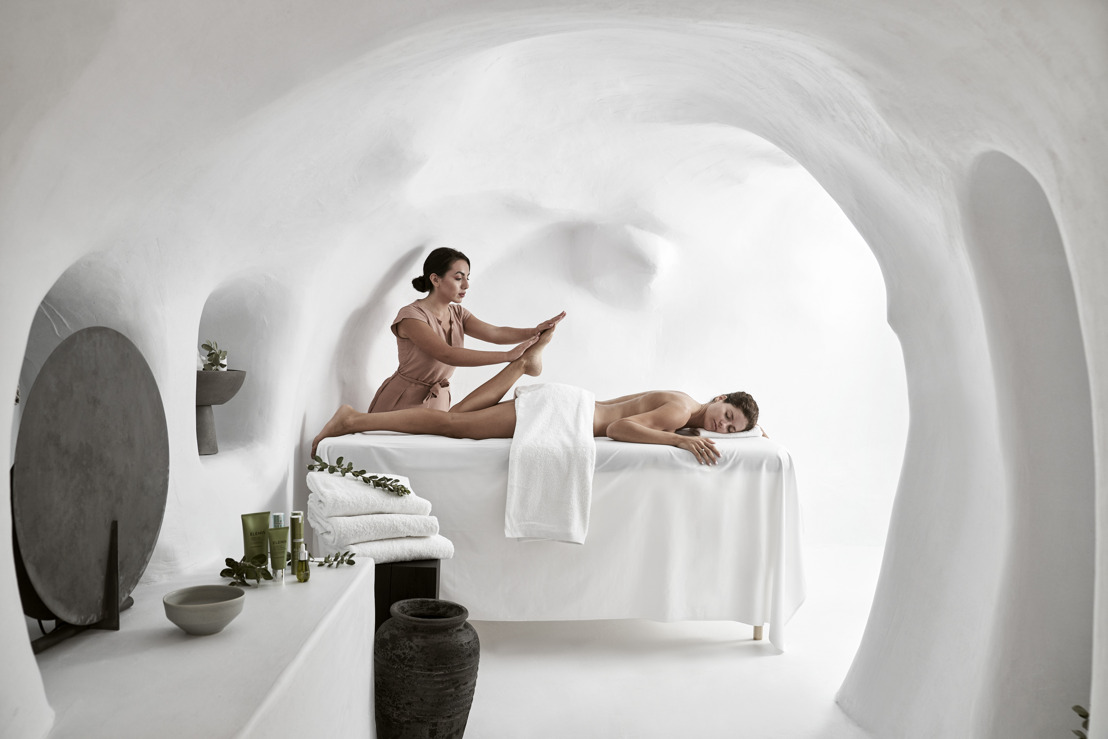 Volcanic Stone Massages, Spa Ocean Wraps and PERSONALISED Treatments at OMMA
Tuesday, 24 September 2019 — "We never settle for second best" is the OMMA spa philosophy. In fact, OMMA's wellness department goes above and beyond to provide not only the most advanced treatment protocols through cutting-edge formulations but a service so unique through its personalisation.
Therapists at the OMMA Spa are meticulously trained to deliver the most exceptional bespoke experience, focusing on guests' wellbeing. Individual preferences are thoroughly explored through a detailed lifestyle consultation so that treatments are completely tailored to each guest.
Treatments are further powered by No1 British skincare brand, ELEMIS. The award-winning products contain the most effective biological actives available from both 'above and below' the earth's surface resulting in pioneering formulas and exceptionally transformative results.
Making use of Santorini's nourishing ingredients and botanicals, many unique signature protocols have been designed at OMMA. Guests can experience bliss with the powers of local Mimosa, Figs, Pines and Eucalyptus of The OMMA Plants of Santorini signature spa ritual.
Connections to Santorini and it's natural healing elements can be explored with an OMMA Volcanic Hot Stone Powerful Massage using Volcanic smooth cut stones that are bathed in precious ELEMIS Frangipani Monoi Body Oil.
Aside from amazing spa rituals and massages OMMA provides a variety of rejuvenating facials, nourishing wraps and detoxifying scrubs; packages can be booked from 75 mins to 2 days!
At OMMA, wellness treats go beyond the spa. Guests can opt for treatments in the comfort of their own rooms or can enjoy a beautiful selection of mini treatments by OMMA's amazing main pool (one of the largest on the island!).
ENDS
Notes to editors
For all PR enquiries please email: phoebe@prmediaco.com
For more information please visit: https://omma-santorini.prezly.com
For images please visit: https://omma-santorini.prezly.com/media
About OMMA Santorini
OMMA Santorini is Epoque Collection's first hotel (Greece's pioneer in hospitality management) which embodies a blend of remarkable hotels in desired destinations, authentic gastronomy and the ultimate immersion in perfect surroundings of luxury.
Named after the Ancient Greek word for vision, OMMA Santorini focuses on providing guests with the element of discovery through all senses. The exclusive luxury boutique hotel in Imerovigli high on Santorini's Caldera has been designed to integrate with its unique geography, maximising space and views.
30 individually-styled suites and rooms (including villas), each with private terrace, welcome all types of travellers. The hotel's exclusive spot featuring stunning 360 views - the Aegean Sea from the back and Caldera from the front, a tranquil atmosphere, Cycladic and minimal design tones, indulging accommodation, personalised services and pure authentic tastes, offer a unique and first-class holiday experience.
For more information, visit www.ommasantorini.com.
About Epoque Collection
Epoque Collection is a leading luxury hospitality management company which embodies a blend of remarkable hotels in sought after destinations. The company provides extensive expertise on many aspects of management, such as gastronomy, operations, advisory and marketing. For more information, visit: https://www.epoquecollection.com/